Now we've said it before and we'll say it again; louvre doors are cool! Not only that but they are also stylish and extremely durable too which makes them an ideal asset to your interior decor.
The open louvre design makes them the 'go to' door for enhanced ventilation and air circulation. As they are available in a number of varying sizes and have the flexibility of being painted, stained or left in their natural finish louvre doors really are second to none. Plus they are budget friendly too!
As internal louvre doors' popularity continues to grow it's easy to see why so many people choose to incorporate them into their homes. But where is the best place to use an interior louvre door? Are they limited to one particular function? The answer is; no not at all. Louvre doors can be used in many different applications. So many ways in fact we thought we'd compile a list for you. Here are some of our suggestions;
IN THE KITCHEN
Kitchen cabinets
Because louvre doors are available in so many varying sizes they are ideal for kitchen cabinets and cupboards in the kitchen as these can be a mixture of shapes and sizes. This way you can have the same style cupboard throughout the kitchen. Not only that but you have, of course, got your air flow.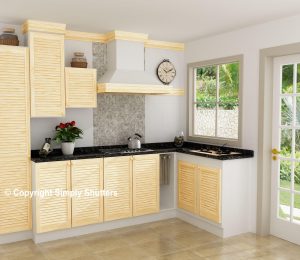 Pantry Doors
Louvre doors are great to use an a pantry door as you get your much needed ventilation which helps to avoid any unwanted smells lingering in the room. Although be aware that if you have an external pantry you may wish to reconsider as a louvre doors could encourage food to freeze in extra cold months.
Saloon kitchen doors
Saloon doors are becoming a lot more popular lately and it easy to see why. They look great. Using smaller sized louvre doors on a kitchen doorway provides a great saloon style effect which looks great with both straight top and scalloped topped styles. Whilst straight edged louvre doors are more readily available a scalloped top louvre door can easily be achieved through door modification. Why not add that little extra touch. Howdy partner!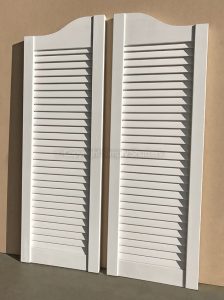 Utensils storage
Turn a louvre door upside down so that the louvre blades are facing upwards. This way you can use each louvre blade as a slot to place kitchen utensils and items in so they hang nicely. Decorate it to your taste or to match the theme to your kitchen and you're good to go. Not only does this look good but it will save you some space and is a good way of keeping utensils all in one place so they don't get lost.
IN THE BATHROOM
Bathroom cupboard or en-suite doors
Whilst it might be considered more popular using louvre doors on bathroom cupboards, using them as a main en-suite bathroom doors can be beneficial for numerous reasons. They are pretty handy in allowing steam and heat to pass through the door and because the gaps between each louvre blade on a standard louvre door are fairly small it's not very easy to look through the door so some level of privacy is still achievable. If you are utilising a louvre door in this way it is always advisable to prepare the door with a waterproof finish by using water repellent paint to ensure greater longevity.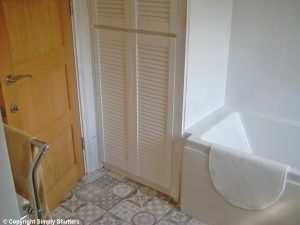 IN THE BEDROOM
Room dividers
Louvre doors are a great way to divide a room. Whether used as a room separator on a sliding rail or even as a free standing room divider louvre doors are ideal. Hinging together 2 free standing louvre doors offers a bi fold free standing room divider which not only adds a touch of elegance to your room but can be done so even on a tight budget as louvre doors are very reasonably priced.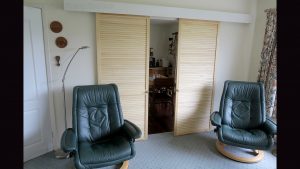 Wardrobe doors or walk in wardrobe doors
Louvre doors are often the go to door type for wardrobes, walk in wardrobes or cupboards mainly due to the open louvre design which is beneficial as it allows a consistent airflow into the room/ cupboard. This is especially advantageous where clothes and shoes are being stored as these types of items can be particularly susceptible to musty smells (especially if you've got clothes and shoes that only make an appearance during special occasions). The fact that they are also lightweight makes them ideal in a bi-fold or sliding door application.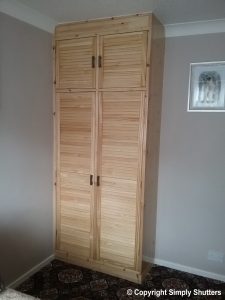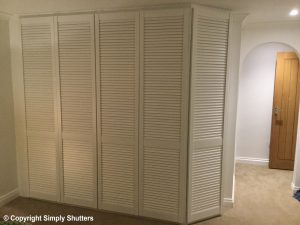 OTHER CUPBOARDS
General cupboards such as TV cupboards, storage cupboards, and under stairs cupboards
Louvre doors are a great feature for cupboards such as TV cabinets as these are often home to electrical items so you are able to get a good amount of air flow into the cupboard. Also great for general storage cupboards and under stairs cupboards as they are great for both air circulation and also to let in light – which I'm sure will please Harry.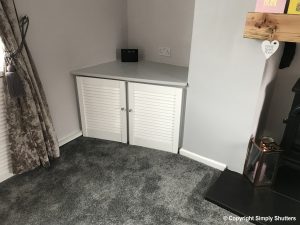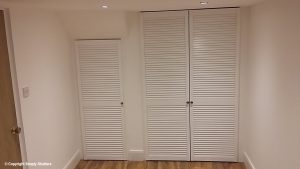 Airing cupboard and boiler room cupboards
Room such as airing cupboards and boiler rooms are renowned for being quite stuffy and warm. By using louvre doors on these types of room you're able to effectively allow air to circulate into the room without leaving the door open. Plus you've got the added bonus of a sleek and modern look. Louvre doors with engineered stiles are also ideal as they are less susceptible to bow and warp which can occur in doors which have a consistent flow of warmer air on one side of the door.
One top tip; if incorporating louvre doors onto a boiler room it is always best to check and make sure that the gap between each open louvre allows enough air flow into the room as some boilers require a certain amount of ventilation. We recommend checking with your registered safetygas engineer.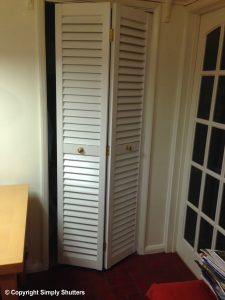 OTHER USES
Main room doors
This could be considered a somewhat controversial choice on the list and certainly not the most popular choice (based on our own experience with customers) but using a louvre door as a main room door is not entirely crazy. We've even had some customers take a rather creative approach to it and replaced panels on doors with louvre doors to create a multiple louvre effect.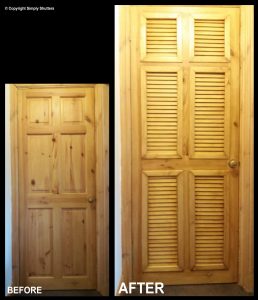 Changing room door in a clothes shop
Shabby chic is extremely popular in today's interior design and a shabby chic style louvre door wouldn't look out of place as a changing room door in a boutique clothes shop. Cute and practical.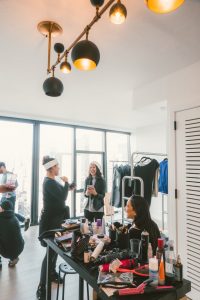 Cheap option for internal shutters/ internal patio doors/ balcony doors
Whilst louvres door are not blessed with tilt rods like internal shutters and as a consequence don't let in very much light if you are simply looking for an alternative window covering to blinds or curtains and are working to a very tight budget then louvre doors could be the answer. Even for use as an alternate until you have the budget for interior shutters; louvre doors are a great money saving way to achieve a similar look but for a fraction of the cost.
CREATIVE USES
Space saving Christmas tree/ decorations
Talking of space saving if you live in a small or compact home and struggle to fit decorations into your setting at Christmas time here's a space saving idea for you; decorate a louvre door with a Christmas tree design and some lights and you've got yourself a little space saving Christmas tree.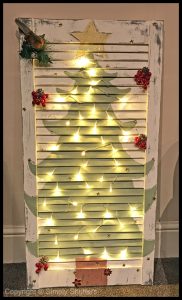 Jewellery holders
If you're lucky enough to have a big jewellery collection then you might find that keeping track of all of your items might be tricky especially if you don't have storage for them. Earrings are like socks, sometimes you lose one and have no idea where it went so to keep all your jewellery in one place why not add some hooks to a louvre door and created a classy jewellery holder.
Create a headboard
Why not think outside the box and make a shabby chic looking head board for your bed. Looks goods and imaginative too.
There are lots of ways to upcycle old louvre doors in creative and imaginative ways. See our article about creative ways to use louvre doors here. Have you thought of any creative ways to use a louvre door? Tell us your ideas below we would love to hear them.