Interior Louvre Doors
High Line Interior Louvre Doors

28mm thick internal pine louvre doors made from high grade knot free Elliotis Pine timber

Browse

White Line Painted Louvre Doors

28mm thick internal White Line painted doors to save you time and effort.

Browse
Product Details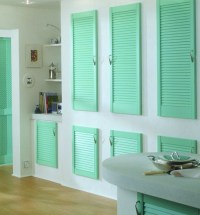 52 variations in size are available for immediate delivery from stock. Fast nationwide delivery and all orders are supported by our 'no quibble' money back guarantee.
The individual 'open' louvres present on all of our readymade louvre doors allow free airflow to minimise the risk of the inside of the storage space becoming 'musty'.
We offer a complete range of popular door widths and heights that can be further trimmed (if necessary) to perfectly fit the space in question.
The quality of construction and the type of timber used will ensure that issues such as warping, splitting or bowing that are common complaints with cheaper, less well constructed doors, will never become a problem for you.
There are 3 ranges for you to choose from.
We recommend louvre doors by Simply Shutters for all of the following applications:
Bedroom wardrobe doors
Airing cupboard doors
Kitchen cupboard doors
General cupboard doors
Internal louvre doors
Closet doors
Interior window shutters
Interior doors and panels for partitions.