At Simply Shutters we understand that your home is a monument to a lifetime of hard work so it is only natural that you'll want to keep it looking at its very best. This is where we can help!
Please browse through the following selection of Town & Country shutters in the shop to find the ideal style to suit your property.
The timber we use to build Redwood Town & Country shutters is sourced from managed forests and has full FSC accreditation.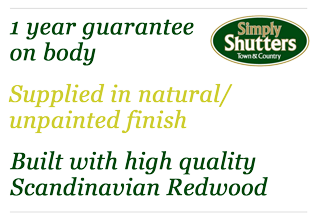 Town & Country Redwood shutters are constructed from Scandinavian Redwood, a slow grown pine joinery grade timber. Being slow grown, Redwood is a much denser timber than white pine variations commonly found on the high street. Consequently, Redwood is better able to resist the elements. With periodic maintenance Town & Country Redwood shutters will stay looking good for years.