reveal fixing, order the grille 5mm less than the width and height of the opening.
For face fixing, the drawings below show the optimum position. However it is best to position grilles so that the fixings go into solid material or that the stack is concealed behind a wall, and this will affect grille sizes. Please ask for advice if in doubt.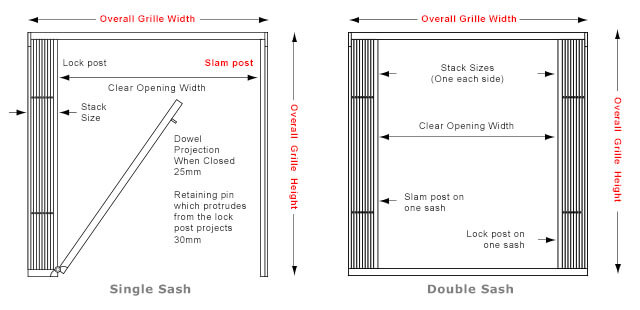 Note that if you need to determine your own fixing points on site we can drill grilles for face and reveal fixing and we can also leave them undrilled by special request. Contact us to order if you need either of these options.
For single sash security grilles you should include the slam post width in your measurement. You simply need to measure the overall width and height of the grille before ordering. All other options added will fit inside these dimensions.
You should always take three measurements for the grille width (at the top, middle and bottom of the grille) and you should also always take three measurements for the grille height (left hand side, middle and right hand side).
You should then order using the shortest width and height.
Many windows and doors are not square, and this will ensure that your grille will fit the opening you are ordering for.
Clear opening width and stack sizes
The clear opening width and stack size(s) for a security grille depend on overall grille width, and also whether you require folding bottom tracks or the hinge aside option. Click here for more details.
Lattices and Posts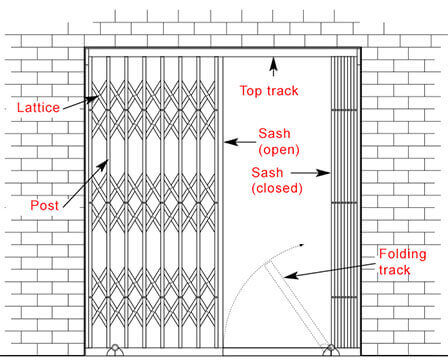 The number of lattices used to make up your security grille with depend on the grille height. The grille lock can also be optionally changed to a position dependent on the number of lattices used.
The number of posts used to make up your grille will depend on the grille width.
See the diagrams and tables below to work out how many posts and lattices will be used to make up your grille.

Additional Sash Options
In addition to the single or double retractable grille options mentioned for the Citadel range above, we can also offer the following: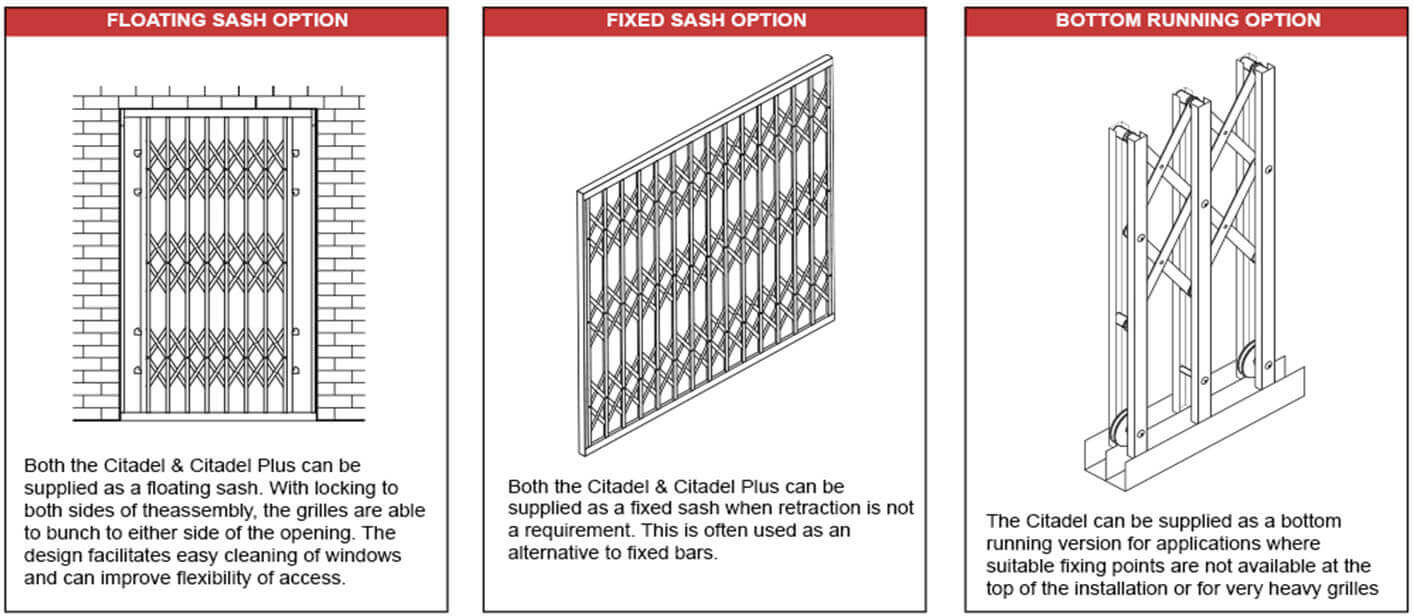 Bottom Track Options
Citadel security grilles can be supplied with the options shown in the diagram below as alternatives to the standard low profile fixed bottom track. Folding and lift out tracks are useful when clear access is required, and to reduce the trip hazard of a standard bottom track.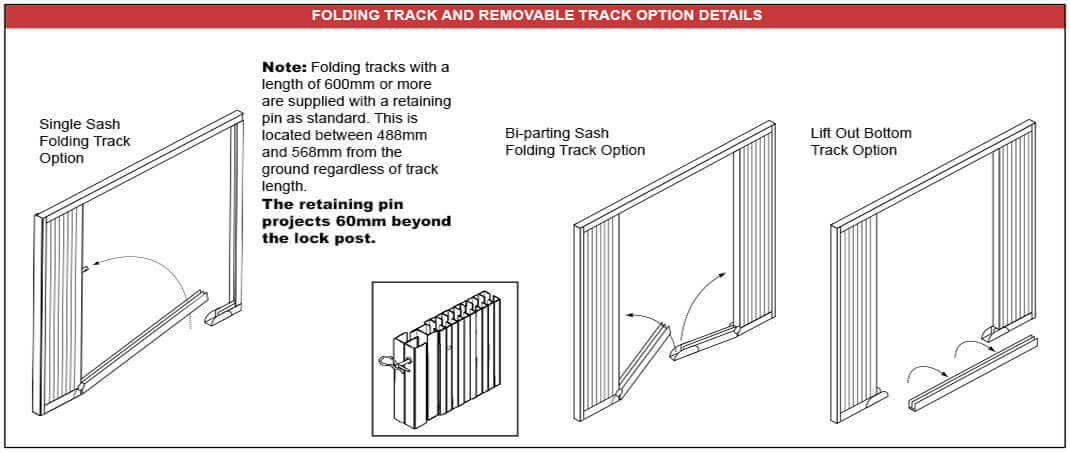 Hinge Aside Option
This option is not available for our insurance certified grilles, Citadel Plus Home or Citadel Plus Commercial.
The hinge aside option allows a whole sash to be folded back once it has been closed (for double sash grilles, each sash folds back independen -tly on its own side). This is useful for aesthetic purposes, or to increase the clear opening width of the grille.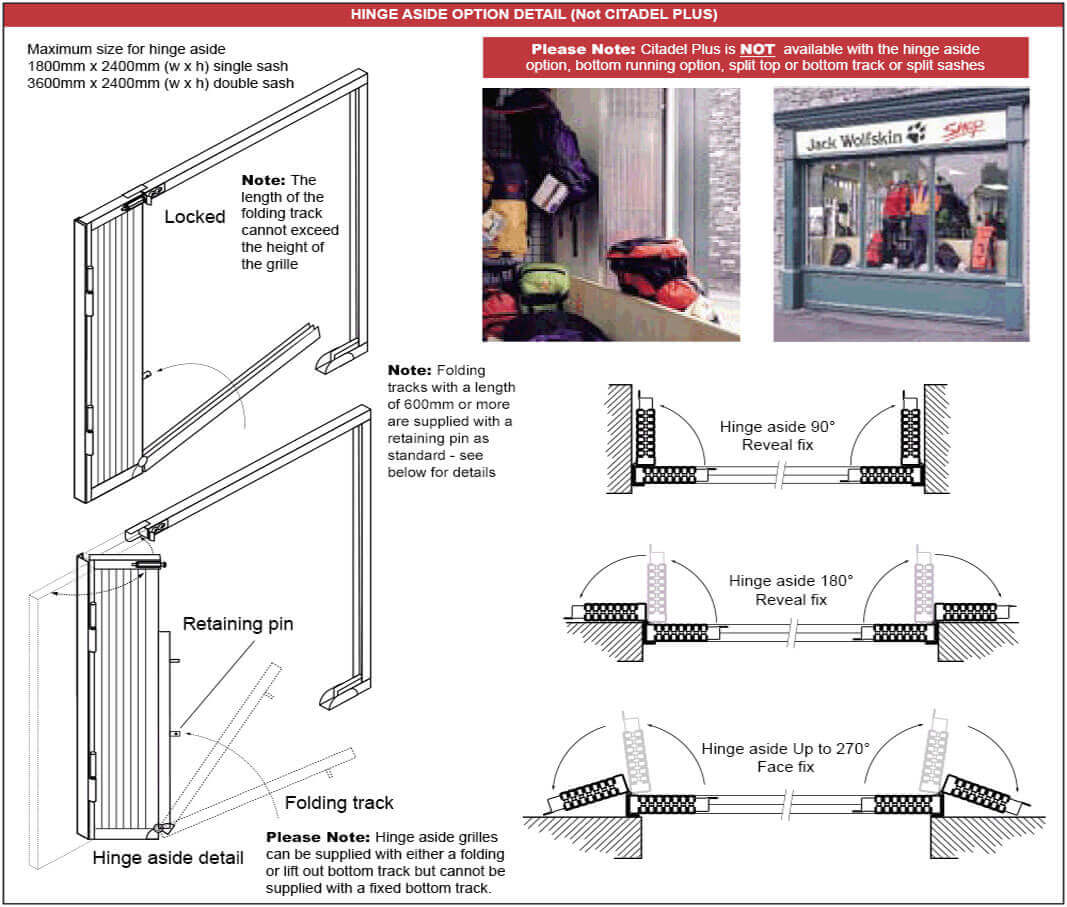 Back to top
If you can't see the information you need in this guide, please give us a call on
01842 814260
. We are always happy to help.