At Simply shutters we understand that your home is a monument to a lifetime of hard work and that it is only natural that you will want to keep it looking at its very best. This is where we can help!
It is ecologically unsound and very costly to continue to manufacture shutters from hardwoods that provide limited resistance to rotting and yet low cost softwoods provide very little durability as they are prone to decay very quickly.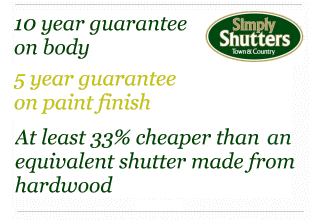 Town & Country shutters are constructed from a blend of synthetic polymers (patent application UK 0605923.2) that replicates the weight, feel and appearance of wood but offers none of the maintenance issues associated with timber. We call this material a 'synthetic wood'.