Exterior Shutters : Frequently Asked Questions
Choosing Exterior Window Shutters
Ordering Exterior Window Shutters
Installing Exterior Window Shutters
Maintaining Exterior Window Shutters
Misc Exterior Window Shutters Questions
When will my order be dispatched?
All UPVC Polypropylene products are manufactured and dispatched within 12- 15 working days unless otherwise notified. Please note special order items will have different lead times.
When will my card be debited?
No monies are debited until the day of dispatch.
How do I select the correct width of decorative shutter for my window?
Because our decorative shutters are non functional in nature there is a great deal of scope with regard to the width options available to you. In real life instances where there are fully functional shutters, each shutter panel may be half the width of the window or may be one of a series of smaller shutters that will ' roll out' across the window to meet in the middle.
When these shutter panels are rolled back in the open position you will only see the width of the facing shutter as the remaining shutters will be stacked behind and hidden from view. It is therefore quite technically correct and acceptable to have a wide window that is to be dressed with relatively narrow shutters. So the answer is to choose the width that you think is the most suitable.
My windows are all different sizes so how do I achieve a neat appearance?
Wherever possible try to keep the widths of the shutter that you choose uniform as this will give a much cleaner overall appearance. You can get away with mixing the widths, if for instance, you keep the 1 st floor shutters all one width with the ground floor being another width. This is only a general rule and there will always be exceptions.
Should I choose a shutter design with a central mid rail or one without?
Mid rails or offset rails can be used to good effect if you have sash windows and wish to take the line of the centre frame of the window across to the shutter. The same applies if you wish to take the line of an offset window frame such as top closers / transoms across to the shutter. You will need to be aware that offset and centre mid rails adversely affect the number of louvres in the shutter and therefore are only recommended for the taller shutter.
Why do I have to choose an Extrawide shutter if I require a shutter to be over 18" in width?
As we use pre-manufactured component parts to construct the shutters, it is the width of these component parts that dictate the width of the shutters that we can build. We can cut the stile or vertical side rail to any length in ¼ inch increments. Currently, the only way that we can assemble a shutter wider than 18" (450mm) is to use a vertical centre support rib or mullion that gives the shutter a bi-fold appearance.
Polypropylene vinyl, whilst almost impervious to weathering, does not posses the same tensile strength as wood and therefore cannot be extended beyond a certain width. To overcome this problem we install a support rib that then allows us to join smaller components together to achieve the wider widths required. This rib also braces the louvres to eliminate the potential for them to sag.
The Extrawide shutter is particularly useful if you need to cover up paint marks on brickwork that show where a previous shutter has been painted whilst on the wall. They also look very stylish
Your pictures of the Extrawide shutters show only designs with a mid rail. Do I have to have a mid-rail if I do not want one?
You can have any shutter from our Traditional Louvre, Extrawide Louvre or Custom Panel ranges with or without a horizontal mid rail. We recommend having the mid rail on taller Extrawide shutters as this provides additional fixing points but this is not absolutely essential.
How do I measure my windows and what tips should I remember?
Wherever possible, measure the window from the outside of the house from the top of the window reveal down to the top of the windowsill. As most windowsills are uneven measure both sides of the window and select a height that allows you to position the shutter evenly on both sides of the window.
If you cannot measure the height of the windows from outside the house, then you can obtain a very good idea by measuring from the inside? You will need to ensure that the interior height of the sill is the same as the exterior height as modern synthetic windowsills are much thinner than the old wooden sills that they replaced. Where an interior sill has not been replaced at the same time as new exterior sills, there is a strong possibility that that there might be a ' step' and therefore the internal measurement may well be less than the exterior measurement.
You have greater margin for error where windowsills end square with the window reveal or edge of the brickwork opening. This is because the shutters can be positioned to effectively mask any differences in height between the shutters and window reveal. You can also ' fool' the eye by lining up shutters that might be slightly too tall for the window with the underside of the sill. This will ensure that the extra height of the shutter is not all at the top of the window and will give a nice straight line across the bottom of the sill.
Where the windowsills run out wider than the reveal then measure both sides and make a ¼ inch reduction in the height of the shutters to allow for positioning and drainage.
What do I use to install the shutters?
When you purchase any shutter from Simply Shutters we supply you with all the fixings necessary to install the shutters together with very detailed and easy to follow installation instructions. You have the choice of either colour keyed screws or plastic shutter spikes to put your shutters up with.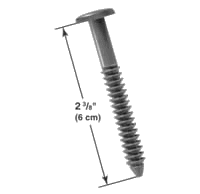 What is a Shutter Spike and how is it used?
A shutter spike looks like a nail with a serrated shank except that it has a blind domed button head finish and a backward facing ' V' shaped thread instead of a spiral thread. They are made in the same material and colour as the shutter that you have chosen.
Shutter spikes can be gently tapped into any pre-drilled hole in the wall without the need to use a wall plug. The effect is like pushing an umbrella through a hole; it will go in one way but will not pull back out. Shutter spikes can be removed by cutting the spike with a thin blade between the shutter and the wall. The core of plastic remaining in the hole can be quickly chewed up by using a smaller drill bit and a new shutter spike inserted. Shutter spikes are particularly useful for coastal locations where steel screws will rust very quickly and for brickwork installations where the shutter is unlikely to ever have to be removed.
For more info refer to the installation instructions page.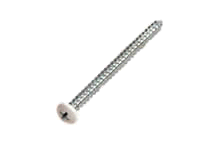 When should I use a screw fixing?
If you have a painted wall that may need to be redecorated from time to time you might be better off using a screw as opposed to a shutter spike as screws are more easily removed. If the shutters are unlikely to be periodically removed, then shutter spikes are a quick and easy to use option.
For more info refer to the installation instructions.
Are there any tips I should remember when installing the shutters with shutter spikes?
Polypropylene vinyl shutters need to expand and contract with the heat and cold so do not tap the shutter spike in too far. You will need to allow a 1mm gap between the underside of the spike head to the face of the shutter when the shutter is flush against the wall. To avoid over tightening the shutter spike use a rubber hammer and gentle taps only.
Prior to installing the shutters check the composition of the wall by making a test hole in an inconspicuous location. Some bricks and walls are very soft and crumbly that will result in a larger hole than required so you might have to use a smaller drill bit to compensate. Shutter spikes will install into mortar or pointing, timber slate, stucco, pebbledash and many other materials. If necessary locate the fixing holes in the shutters to avoid the mortar or, if installing into engineering bricks or flint (exceptionally hard), go into the mortar.
For more info refer to the installation instructions.
How do I keep my shutters clean?
We generally say that the more that you can leave the shutters alone the better it is. A quick spray with the hose and leave them to drip dry will generally be sufficient. If you do get a build up of film or bird droppings, hot soapy water and a stiff brush will bring the shutters up to a clean lustre.
I have never installed shutters before. How do I do it and is it easy to do?
Our products are very easy to install. We supply complete detailed instructions with our shutters but just in case you lost them you can download PDF files here to printout or view on screen by going to our installation instructions.
Can I paint these shutters and what are Styrene Shutters / Paintable Shutters?
Our polypropylene plastic shutters will expand and contract with the different temperature that they are likely to face over the years. Unfortunately, if you were to paint any of our self coloured UPVC exterior shutters, the paint would not be able to expand and contract with the shutter and would subsequently flake off.
To allow for any particular colour scheme to be matched there is a material called styrene that is inert and will not expand or contract. Styrene is a material that must be painted but once painted it will effectively hold the paint so that you will not be into the continual repainting cycle as with timber shutters. The paint colour will eventually fade over the years from the effects of the sun and this cannot be prevented.
If you are likely to want to change the colour of your shutters in the future or require an authentic painted finish then styrene paintable shutters are the option for you.
For more information download the painting instructions from the installation instructions .
How can I be sure that the colour I see on screen is the true colour of the shutters that I order?
Because what you see depends on your monitor settings we cannot be sure just how true the likeness is of the colour that you are viewing? When this website was constructed a lot of effort was made to get the colours correct so they are very close to the real thing. To avoid giving you any unwelcome surprises, we will mail to you a small colour sample (free of charge) of your chosen colour (except white, black and paintable) so that you can see the colour for yourself. We will then await your instructions to proceed with your order.
Can I use decorative shutters like a door?
No. Our decorative shutters are made from a ' hollow box' design and are not suitable for use as a door or freestanding shutter. The shutters, once installed are very sturdy but they get this strength from the wall itself and must therefore be mounted directly onto a reasonably flat surface.
For free standing doors please see our range of interior louvre doors here.
Should I mount the shutters onto battens to keep them off the wall?
No. The shutters must be mounted straight onto the wall. If they were to be mounted on battens there is a risk that they might twist in the heat of the summer. Our louvred products have an open louvre to allow airflow and all of our decorative shutters have the rear panel/ face removed to promote air circulation (it also keeps the cost down) to minimise the risk of mould growth.
For more info see the installation instructions .
Can I install my shutters on tiles? / Ferrules
Yes. The shutters can be mounted on tiles but there are various measures that must be taken first. Lay the shutter on to the tiles and allow it to find its own level. You might find that there are several large voids behind the shutter where the tiles slope away. To allow you to support the shutters if there is a void where you have a fixing point you can use a Ferrule.
When drilling into the tiles you must use a special drill bit to cut tiles as ordinary masonry bits will not work. You must also continually lubricate the drill bit head with water spray to prevent the drill bit head from burning off. If there is a batten behind the tile drill into the batten for a really secure fixing. If you have to drill into the lining board seal the hole with some clear silicon sealer to prevent water ingress. Placing some sealer onto the screw and then screwing home will allow the sealer to form a waterproof plug around the hole.
For more info see the installation instructions.
What is a Ferrule?
A Ferrule is a tube with a flanged lip that sits behind the shutter and supports the shutter at the fixing point. A suitably long screw is inserted through the pre-drilled hole in the shutter and through the Ferrule into the wall. We can supply you with Ferrules but should you get caught out when installing the shutters and you need something immediately, a biro or ballpoint pen tube cut to size will suffice in the short term?
For more info see the installation instructions .
Will the wood grain effect on the shutters trap the dirt?
No: UPVC polypropylene is a naturally smooth substance at a microscopic level and as a consequence dirt will not have very little to cling to. You will find that the shutters will remain fairly clean as the rain does a washing job for you. Over time it is likely that the shutters will have acquired a layer of grime or traffic film. This can be washed off with a stiff brush and warm soapy water. Do not use any chemicals, household cleaners or bleach!
What can I do if I've ordered the wrong sized shutters?
Our decorative plastic polypropylene UPVC shutters are supplied with a 7day money back guarantee so if you return them to us in an unused and as received condition within this time period we will either exchange/ rebuild the shutters to the correct size or give you a full refund less the forward and return carriage costs.
Do you know anyone who will install the shutters for me?
Our decorative shutters are very easy and straightforward to install but we recognise that many people do not like working at heights and our busy lives mean that it is sometimes easier to get someone else to fit them for us?
We shall be inviting installers from different parts of the country to supply us with their contact details that we shall then display their details on this website for you to make contact with them.
Simply Shutters Ltd does not employ these people nor are they in any way representatives of this company. Prospective clients must make all negotiations directly with each installer and must satisfy themselves as to whether to appoint the installer or not? In the event of any complaints concerning shoddy installation / workmanship Simply Shutters Ltd will remove the installer details concerned from this website. Please go to our shutter installation instructions for more details.
What do I do if I have paint on my wall where my old shutters used to be?
This is a common problem and one that is not easily solved. Bricks have lots of micro holes or pores in the surface very much like a sponge. Paint gets into these holes and cannot then easily be removed Using a solvent or paint stripper with a wire brush is unlikely to remove the paint totally and may even make things worse by causing the paint to spread even further! Blowtorches and paint guns are likely to crack and discolour the bricks. The easiest and best thing to do is to cover the paint marks up with bigger shutters. If someone has come across and used Graffiti Remover (sold in Off the Wall) please let us know of the results that you got.
What if I am looking for a style of shutter that I cannot see on your website?
Because we spend our working lives making shutters it might be possible for us to make the type of shutter that you are looking for? Please call us on the main telephone number or e-mail us the details and we shall be happy to investigate further.
What is the likely carriage cost going to be for where I live?
We deliver any size of order anywhere in the UK mainland for just £ 12.95 inc. vat plus £ 1 per additional item. Areas such as the Isle of Wight / Isle of Man/ Hebrides/ Western Isles / Channel Islands/ Isle of Scilly/ Northern Ireland and Republic of Ireland cost a little more so please refer to our carriage charges page for further information.
Will I be able to get the same shutters cheaper elsewhere?
It is unlikely that you will find a better shutter than a Simply Shutters shutter anywhere else but we still monitor our prices and those of others to ensure that we offer you the best deal! If you do find better terms on offer elsewhere either before purchase or within 30 days of getting your new shutters we will not only match the lower price we will beat it by a further 10% (includes carriage costs) so you can't say fairer than that!
Do you have an electronic brochure and price list that I can download?
No not yet. An electronic brochure and price list is on the way but it's not ready just yet.
Do you have special terms for trade customers who wish to purchase for resale?
Yes.We value all trade accounts highly and actively seek and encourage tradesmen, retailers (independent and multiples) and builders to open a trade account with us. Once a trade account is opened we will supply you with free sample display shutters, generic point of sale material, a very fast turn around time on all orders placed as well as preferential purchase terms.
What is your " Price Promise Guarantee" ?
So that you can order from us with confidence we operate a Price Promise Guarantee. Should you discover that you could have purchased products online elsewhere of the same or similar nature and quality for less (inc. carriage costs) within 30 days of purchase then Simply Shutters Ltd will guarantee to match the lower price and then reduce it by a further 10%. A refund for the difference will be paid into the card account used when placing the order. This guarantee specifically excludes Trade Sales who enjoy their own special terms. Condition apply. Please see our terms and conditions section.
What is your " 14 Day Money Back Guarantee" ?
We are so sure that you will be delighted with our decorative polypropylene products and wooden louvre doors that we offer a no quibble 14 day money back guarantee should you not be totally satisfied (custom made Town & Country shutters, modified louvre doors and specially ordered items/ shutters are specifically excluded. Items to be returned must be in original condition and packaging and we will reimburse you in full for the cost of the products returned excluding carriage. You will be responsible for forward (and return) carriage costs that will be deducted from the amount refunded.
For items that need to be returned we recommend visiting www.parcel2go.com to make the booking.
Please note that we are unable to accept any items for refund that are delivered to us damaged.
Trade accounts benefit from different terms therefore this guarantee does not apply to any Trade Account purchases.
Do you supply interior shutters?
No.There are very many specialist interior shutter companies serving the entire country and we would much rather leave this product, that requires specialist fitting, to them. We recommend using a family run business called open'n'shut who will provide you with excellent service.
I have a question that I cannot see the answer to on your website?
We think that we have covered most questions that are likely to be asked but if you do have a question on exterior shutters that you would like answered (nothing surprises us anymore) please e-mail us the details and we shall get right back to you. It might even find it's way on this section?