Your Guide to Exterior Shutters
Share this page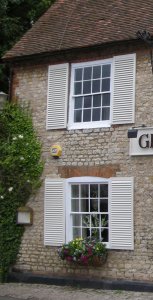 Simply Shutters specialise in the manufacture and supply of an extensive selection of high quality polypropylene UPVC exterior shutters for the home.
The large range includes all the popular shutter styles, such as Traditional Louvre, Extrawide Traditional Louvre, Board & Batten and the top of the range Town & Country plastic 'synthetic wood' shutters that enable the buyer to order customised window shutters that are constructed to the exact dimensions required.
All of our decorative exterior shutters have been crafted to enhance the appearance of your home and require little in the way of maintenance, unlike timber shutter alternatives.
Readymade Master Shutters are economical to buy, are available in a variety of different colours and in two distinct styles. Should the set size options of the Master Shutter range not meet your requirements then our custom made ranges will provide you with a wider choice of width options and the facility of having the shutters made to a style of your choice and to the exact height needed.
Custom Panels provide an alternative to the louvre style and herald back to the Regency days of the Georgian era. Custom Panels look great on traditionally styled homes as well as their more contemporary counterparts.
Whatever range you feel best suits the style of your home, all Simply Shutters products are built to last, are supported by a
40 year warranty
and will offer you years of trouble free ownership.
Traditional Louvre Window Shutters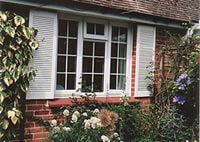 The most common and popular style of shutter that can be found on homes today is the Louvre Shutter.
There are many shutter styles to choose from and it is not uncommon to find shutters that have been custom built to incorporate designs from other styles of shutter; for instance a combination of louvre and flat panel.
More about Traditional Louvre Window Shutters
Extrawide Window Shutters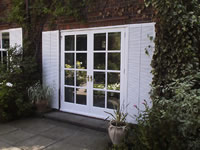 Because we use pre-manufactured component parts to construct the shutters, it is the width of these component parts that dictate the width of the shutters that we can build.
We can cut the stile or vertical side rail that makes the frame to any length in ¼ inch increments. Currently, the only way that we can assemble a shutter wider than 18" (450mm) is to use a vertical centre support rib or mullion that gives the finished shutter a bi-fold appearance.
More about Extrawide Window Shutters
Board & Batten / Country Panel Window Shutters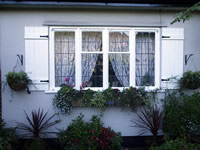 Board & Batten and Country Panel shutters complete our line up of custom built decorative exterior shutters.
This range of shutters is deliberately constructed to look quite rustic in appearance and will not look out of place on either a country cottage or more contemporary property in the middle of a town or city.
More about Board & Batten Window Shutters
Custom Panel Window Shutters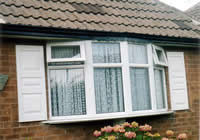 For the homeowner who is looking for a different appearance there is the Custom Panel series of decorative exterior UPVc plastic shutters.
The Custom Panel range contains a variety of different panel styles to suit just about every taste.
More about Custom Panel Window Shutters
Master Shutters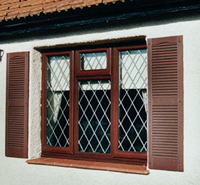 Master Shutters are our ready made shutters and what tremendous value they are too!
Every bit as good as our range of custom built louvre and panel shutters, Master Shutters are available in two widths, 2 styles (louvre and panel), 15 different colours and 20 pre determined heights.


More about Master Window Shutters....
Ramin Hardwood Shutter Panels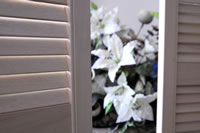 Ramin hardwood shutter panels can be used as traditional shutters for windows or, alternatively are ideal for use as doors in exterior or interior applications. Please note: This product us no longer available at Simply shutters and has now been discontinued
More about Ramin Hardwood Shutter Panels....
Older Style Window Shutters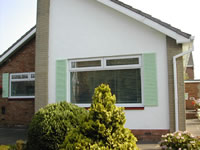 During the 1960's and 1970's the plastics industry was nowhere near as advanced as the industry is today. 30 or 40 years ago the only decorative shutters on the market were made of timber or of a plastic material called ABS.
More about Older Style Window Shutters....
Town & Country Synthetic Wood Window Shutters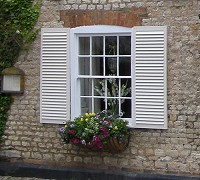 Town & Country shutters are constructed from a blend of synthetic polymers (patent application UK 0605923.2) that replicates the weight, feel and appearance of wood but offers none of the maintenance issues associated with timber.
We call this material a 'synthetic wood'.
More about Town & Country Synthetic Wood Window Shutters....
Share this page