If you have ever purchased shutters from Simply Shutters in the past you will be familiar with the question: what fixings would you like with your shutters? If not, then read on.
Our Decorative Polypropylene shutters are provided with fixings as standard and since there are two types to choose from we thought we'd explain what they are:
Shutter Spikes
What are shutter spikes?
Shutters Spikes are made from the same material as the shutter: a plastic called Polypropylene. They have a button head finish and a serrated shank. Their only purpose is to fix external, decorative shutters to the wall.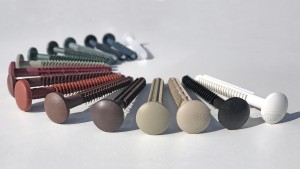 How do you install them?
On your shutters mark the locations where they will be drilled and fixed into place. Drill a hole into the shutters. Use this hole to make a mark on the wall where you want the shutter fixed into place and then drill a hole here. Place the shutter over the hole in the wall and gently tap the shutter spike in. You do not need to be rough or vigorous with shutter spikes as they will move into place by gently tapping. You do not to use any wall anchors with shutter spikes.
Are they permanent?
No. But they are semi-permanent. Imagine pushing an umbrella through a hole; it will go in one way but will not pull back out. As these are a semi-permanent fixing they cannot be pulled out of the wall.
How can I remove them?
To remove a shutter spike you need to cut off the head of the spike from between the shutter and the wall. The remaining shaft left in the wall can be drilled out with a smaller drill. To put your shutters back up you would need to use brand new shutter spikes.
Colour Matched Screws
What are they?
Colour matched screws are simply what they say on the tin. They are standard 2 ½ inch steel screws with the heads painted to match your shutters. If you ordered a pair of white shutters, we will supply you with white colour matched screws.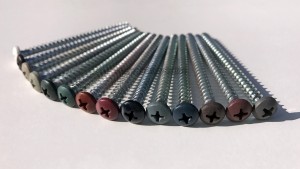 How do you install them?
As you would when installing with shutter spikes, first mark the locations where you are to drill and fix the shutters into place. Drill a hole smaller than the head of the screw being used. Mark the wall where you want to drill. Drill a hole that is the right size and depth to accommodate the wall anchor. Position the shutter back on the building and tighten the screws.
Are they permanent?
No. Unlike shutter spikes screws can be unscrewed and replaced. These fixings are particularly useful if you have painted walls that require periodic maintenance.
How much are shutter spikes and screws?
Fixings are supplied as standard with your order, you can choose between shutter spikes or screws. We will always supply the right amount of fixings for the shutters ordered. If additional screws or shutter spikes are required these are available to purchase here.
Is there anything else I need to know?
Shutter spikes are particularly useful for coastal locations where steel screws can rust and for natural brickwork installations where the shutter is unlikely to be removed.
The heads of screws are colour matched to the shutters. We do not supply screw caps as there are no screw caps currently available that are UV resistant (containing Ti02) in the same colours we supply.
If you have a painted property screws may be the fixing of choice as it is easier to remove the shutters for periodic maintenance.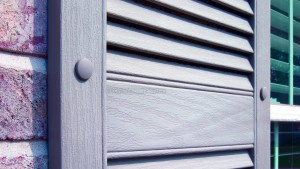 For full installations instructions for shutters click here.
We also have another range of shutters called Town & Country. And the fixings for Town & Country shutters? Well that's a different story entirely.