In a previous article we discussed the top ten most popular colours chosen for external shutters. To continue the trend this time we're focusing on the top ten most popular styles of external shutters as purchased by Simply Shutters customers. So take a look at our list:
1. Traditional Louvre | Straight Top – All Louvre
Without a doubt our most popular style shutter is the Traditional Louvre shutter. Available in a number of variations our number one style is the; Straight Top – All Louvre. The versatility of this style shutter makes it a popular choice amongst our customers as it goes with almost all types of windows. Not only that but it looks sleek and stylish too!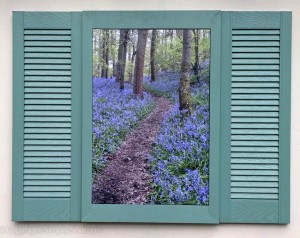 2. Traditional Louvre | Straight Top – Centre Mullion
It's no surprise that our second most popular shutter is another variation from the Traditional Louvre range. Slightly different in style to our number 1 in at number 2 is the Traditional Louvre shutter with a straight top and centre mullion. This particular style tends to be a favourite with those who have sash windows as the horizontal bar 'lines up' with the meeting rail or 'join' between the two window panels.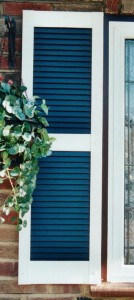 3. Traditional Louvre | Cathedral Top – Centre Mullion
The cathedral top Traditional Louvre Shutter offers a slightly different edge on the straight top as it has a scalloped edge top giving a little extra charm to the shutter style.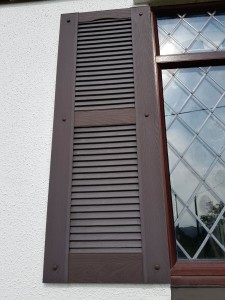 4. Extrawide Traditional Louvre | Straight Top – All Louvre
Extrawide Traditional Louvre shutters are exactly what they say on the tin – they are Traditional Louvre shutters that are Extrawide. The reason these are in a category of their own is because of the way they look. Because our shutters are built from pre-manufactured component parts it means we only have component available in certain sizes. So the only way to achieve a wider style louvre shutter is to adjoin 2 louvre components together using a supportive rib or a ' J hook' as it is technically known. This gives the shutter a bi-fold appearance which looks like 2 shutters next to each other.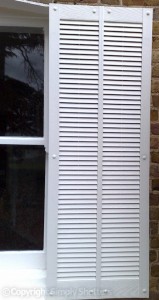 5. Master Shutters – Louvre
Master Shutters – Louvre are exactly the same style as the Traditional Louvre shutters – Cathedral Top with Centre Mullion however they are only available in certain heights and in 2 widths (12" and 14.5"). The premise of the Master Shutter is that because they are built in certain sizes we can be build them in bulk and place into stock so they are readily available to buy. This makes them a popular item with people working to a tight schedule.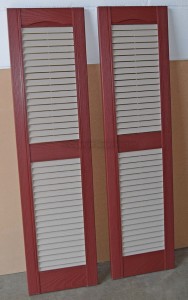 6. Town & Country Synthetic – The Kensington
Town & Country Synthetic decorative shutters are built from a blend of synthetic polymers and are maintenance free (as is our speciality) designed with the intention to look, weigh and feel like a wooden shutter but without actually being wood. Available in nine different styles the most popular is The Kensington – a contemporary style louvre shutter with the louvre blades kept within the depth of the frame.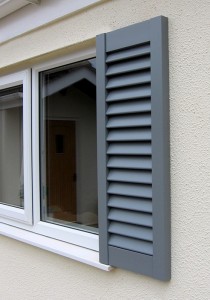 7. Custom Panel – Two Equal Panel
The Two Equal Panel Custom Panel shutter is one of the variations of shutter available in the Custom Panel range. Custom Panel shutters (also known as regency panels) are a solid, panel style shutter which were orginally very popular during the Georgian period but still remain a popular choice on a lot of homes today. Although remember our decorative Custom Panel shutters are not solid and are built in what is best described as a hollow box construction.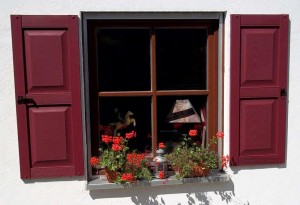 8. Town & Country – The Carbrooke
The Town & Country Carbrooke style shutter is inspired the Traditional 1930s design with the louvre blades protruding through the face of the shutter providing a unique yet classic edge.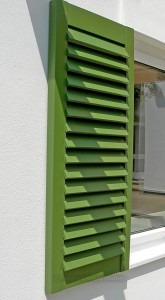 9. Board & Batten Joined
Another variation of shutter available from our decorative Polypropylene range, the Board & Batten style shutter is designed to provide a 'rustic' look. Board & Batten tends to be a popular choice with those who have country style or cottage type homes. With the added option of having decorative hinges and hold backs the Board & Batten style shutter really achieves that cosy country feel on a property.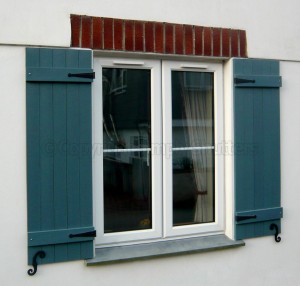 10. Town & Country – The Cavendish
Essentially the Town & Country Cavendish is the same design as The Kensington but with an added centre bar. Again this style of shutter is a popular favourite with those with sash windows although is not restricted to this style of window as The Cavendish looks great with many styles of window.