What do you use your shed for? Is it a storage area keeping a watchful eye on your lawnmower? Is it an empty vessel taking up room at the end of your garden or is it crammed full of stuff that you don't use but can't bring yourself to throw away?
Whatever it may be, sheds aren't being used the same way they used to be. Your shed can now be more than just a garden furniture storage area. It can be your sunny Sunday afternoon dwelling. A summer house. A relaxing little haven surrounded by tropical plants that gives the feeling of being on holiday.
Your shed could become its very own miniature holiday resort. People are even using sheds as separate living areas such as office spaces or home cinemas.
And the best thing about this; decorating your newly discovered relaxation palace.
After choosing the interior décor for your shed, and selecting any plants and ornaments to surround it, you might want to inject a bit of Mediterranean glamour by adding external decorative shutters to your new 'bolthole' at the end of the garden.
One great thing about decorative external shutters is they are effortlessly attainable and don't cost a fortune. Not only that but the majority of external decorative shutters in the UK today are made from synthetic materials so they are longer lasting and maintenance free. With so many different styles to choose from you can most certainly find the right shutter for your shed.
Check out these transformed sheds;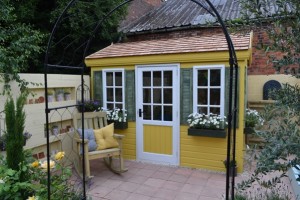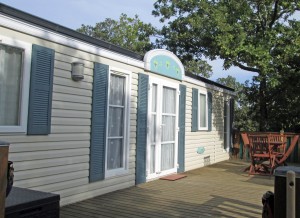 It doesn't have to stop at just sheds. Why not add a little funk to your micro home, your beach hut or your caravan.
For Simply Shutters' full range of external decorative shutters click here.