We're approaching that time of the year again where large numbers of joggers frequent the parks, roads and pavements. Which can only mean one thing, the London Marathon is on its way.
As a small family run company we are passionate about helping other small businesses and its colleagues. That's why we take great pride in sponsoring Candy Summers, manager at another local Brandon business called The Great Eastern Hotel. She has courageously decided to run the London Marathon this year in support of Cancer Research UK.
The London Marathon is one of the world's most popular and successful fundraising events. With thousands of people taking part every year, it's a great platform to raise money for various charities and good causes.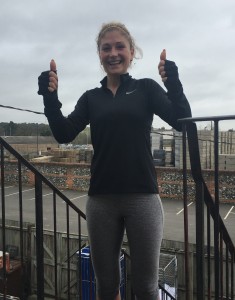 Candy has been giving us regular training updates and despite having a sprain in her ankle and pulling some muscles at the back of her knee she is persevering in order to achieve her goal.
As many of us know running a marathon is not an easy task and we cannot praise Candy enough for her hard work and dedication to the cause.
Her aim to raise £5000 is well under way but every little helps. To help Candy reach her target please donate to her just giving page by clicking here.
Candy herself says "This disease is the main killer in the UK with over 200 types of cancer! Let's please try to put a stop to this once and for all. With your support hopefully one day we won't have to hear that terrible word CANCER anymore. For me I'm proving how important this is by running this 26 mile marathon and everybody's name who I hold close to my heart will be written down my arms and they will be with me all the way!".
All donations are graciously received and will 100% go to Cancer Research UK.
We will be cheering her along. Keep an eye out on TV to see if you can spot her.