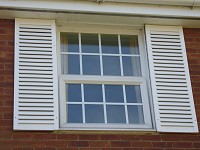 Well, the day has finally arrived and it has been a long time in the coming.
Simply Shutters proudly announce the official launch of the Town & Country 'synthetic wood' shutter range.
We make the shutters by hand in exactly the same way as a carpenter will build a shutter from timber except that we use a 'synthetic wood'. The material was developed in conjunction with experts within the Plastics Industry and is subject to a patent application (0605923.2). As a consequence the only place that you can buy Town & Country 'synthetic wood' shutters from is from Simply Shutters.
Town & Country shutters can be used in a fully operational manner (within limitations) or more commonly installed in a fixed position as a decorative shutter. T&C shutters are made from solid sections of synthetic material (like wood) and are practically indistinguishable from real wood shutters.
The finish is provided by means of a hard wearing and very durable U.V. stabilised acrylic epoxy paint as used by the composite door industry so you can be sure that it is tough and will resist fading. The end result is a hand built shutter that exudes quality; that looks weighs and feels like wood but without any of the maintenance issues associated with timber.
T&C shutters really do offer you all the charm and appearance of wood and are practically indistinguishable from real timber shutters.
T&C shutters are supported with a 10 year carcass guarantee and 5 year paint warranty. We can also custom colour paint the shutters for a small surcharge.
T&C shutters come ready to install and will pay for themselves time and time again in maintenance cost savings.
Check out the new Town & Country range by visiting this page:
https://www.simplyshutters.co.uk/town-and-country/