Simply Shutters is getting simply silly this year by joining in on Christmas Jumper Day for Save the Children. Taking place on Friday 16th December the team here will come to work in their most festive Christmas jumpers and donate to the cause.
Save the Children provides aid to children in over 120 countries worldwide. They aim to save the lives of children by providing education and healthcare to children who live in impoverished areas and don't have easy access to it, working towards abolishing child poverty and hunger, protecting children, and fighting for their rights. They work in various countries including United Kingdom, Africa, Asia, Middle East and South America.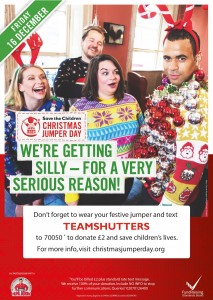 This is the first time we've gotten involved in Christmas Jumper Day and it's something we are hoping to continue doing each year.
How Christmas Jumper Day works is simple. Wear your most festive Christmas jumper on Friday 16th December and donate £2 each to the charity.
Not only is this a fun and festive way to enjoy the day but with 100% of the donations going directly to Save the Children we are safe in the knowledge that all of the money raised is going straight to the cause. We are so proud to be involved and can't wait for Friday 16th December. Even Shutter Dog is getting involved.
Make sure you keep an eye out for all the pictures from the day on Simply Shutters' social media pages on Facebook, Twitter, Pinterest and Google+.
If you want to get involved and donate to Save the Children then you can do so by texting TEAMSHUTTERS to 70050. It costs £2 plus your standard text rate message and 100% of your donation goes to Save the Children. For more information on Christmas Jumper Day and to see terms and conditions click here.
Go on get silly with us. And if you want to send us your pictures of yourselves in your Christmas jumpers for us to post on our social media pages then please do we'd love to see you!