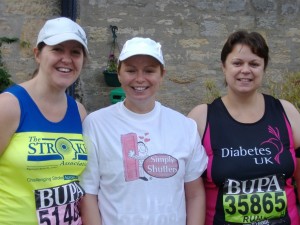 Simply shutters assisted with sponsorship for a team entry in the 2008 Great North Run that was held earlier this year. The 2008 Bupa Great North Run took place on Sunday 4th October and with approximately 52,000 runners taking part.
The Bupa Great North Run is the world's biggest half marathon and covers a distance of 13.1 miles (21km) through the roads of Newcastle Upon Tyne.
The weather on the day was unexpectedly warm for the North East as most of the country had unsettled weather so all the runners set off in good heart led by Olympic gold medalists Chris Hoy and Rebecca Adlington.
Many runners and teams were there to raise much needed funds for charity and Simply Shutters helped the cause by sponsoring an all ladies team.
Sisters Julie and Wendy Haddock and good family friend Pippa were there to raise money for the Diabetes UK and the Stroke Association and between them they raised almost £2000.
The three girls crossed the line together in a highly creditable time of 2hours 57 minutes given that they have never done this kind of thing before.
The men's race was won by Olympic marathon bronze medallist Tsegaye Kebede who  led from the start and finished in 59mins 45secs.
Gete Wami, the reigning World Marathon Majors overall champion, won the women's race by a second in 1hr 8mins 51secs, with Britain's Jo Pavey coming in third place.