UPV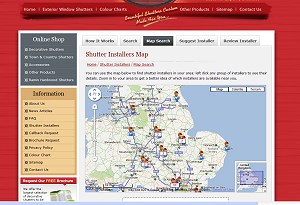 C window shutters business Simply Shutters has launched a new website, adding to its highly successful 12-year record by further improving its customers' buying experience.
Simply Shutters has unveiled a new-look website for their immensely successful window shutters business. The site sells a wide variety of decorative and practical UPVC window shutters in a range of styles and colours.
SimplyShutters.co.uk now offers a number of new features to help customers research, select and cost their products, ensuring a streamlined and trouble-free buying process.
Paul Millar, director of Simply Shutters Ltd, stated, 'As a family run business we endeavour to deliver good old-fashioned levels of service. We try to look after our customers in the way we ourselves want to be looked after by offering sound advice in a cheerful and friendly manner. Customer service is of the highest importance and deeply ingrained within our small team.'
This commitment to customer service includes several additions to the site, helping clients find the necessary information both to buy and to install their new window shutters:
Improvements to the colour chart with a 'highslide' feature, enabling customers to better view the colours on show.
'Simple' rapid purchase option or 'Registration' option if customers wish to save items in their cart for future reference.
An account history and other helpful features are available for clients who register.
A greatly improved Installer section assists clients in finding an approved installer in their area, including a 'Map Search' feature.
Overall navigation around the site has been improved with easy-to-locate navigation aids.
Once custome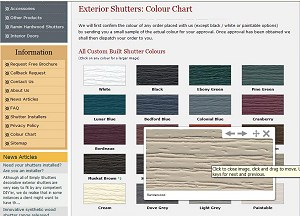 rs have selected their desired window shutters, all payments are made via PayPoint.net, offering them absolute security and peace of mind with its 128-bit encryption.
Simply Shutters' has been operating since 1999 and their commitment to high-quality products and excellent customer service is reflected in their trading record. The company has weathered the financial storm without a dent to their business – in fact, their window shutters have become more popular than ever in the last few years.
Director Paul Millar commented, 'Judging by the feedback we have received from our clients I'm delighted to say that we seem to be doing something right, not least because we have seen sustained growth year on year for each of the 12 years that we have been in business. 2010 was our best trading year ever!'