Interior Louvre Doors
High Line Interior Louvre Doors

28mm thick internal pine louvre doors made from high grade knot free Elliotis Pine timber

Browse

White Line Painted Louvre Doors

28mm thick internal White Line painted doors to save you time and effort.

Browse
Product Details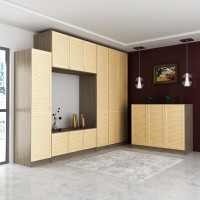 Simply Shutters is a small family run business operating from Suffolk, UK. We carry the largest range of interior louvre doors with exclusive sizes not available anywhere else in the UK. With over 64 variations in size all available for fast dispatch, nationwide delivery* and with all stock sized doors supported by our 'no quibble' 14 day money back guarantee* we truly believe you can't buy better.
These high quality doors have individual 'open' louvres which allow free airflow to minimise the risk of storage space becoming 'musty'.
High Line pine and White Line painted louvre doors are manufactured from high quality pine and are FSC approved so you can be confident you have purchased a responsibly sourced item.
In addition to this, both the pine and white louvre door ranges have the added benefit of engineered stiles so issues such as warping, splitting or bowing will never become a problem for you.
We stock over 2500 doors across all sizes as well as exclusive heights and widths. If you can't find the size you are looking for we also offer a modification service where we'll alter the nearest stock size louvre door to your required dimensions.
If you are looking for an open louvre / slatted internal door to allow airflow there are 2 ranges to choose from:
Simply Shutters' louvre doors can be used in many different applications, including:
Bedroom wardrobe doors
Airing cupboard doors
Kitchen cupboard doors
General cupboard doors
Internal louvre doors
Closet doors
Interior doors and panels for partitions
Please take a few minutes to browse through our online shop to look at the options available to you. You can browse through the various ranges to find the exact size to suit your needs.
Made to measure louvre doors
High Line and White Line internal louvre doors do have some allowance for trimming to an extent. To reduce the height we do not recommend trimming more than 10mm from the top or bottom rails (20mm in total) and to reduce the width we recommend trimming no more than 5-6mm total.
Should you need to reduce a stock door beyond the maximum trimmable limit you can take advantage of our door modification service. Our skilled carpenters will take the door apart; cut all the components to size and reassemble and square off. The end result will be a custom sized louvre door that will look factory made. Please be aware that White Line louvre doors will require painting to hide any carpentry marks before installation.
By visiting each category page in the shop you'll find you can get no obligation quotes, discover the biggest range of readymade louvre doors in the UK, with exclusive door sizes not available elsewhere, and a level of customer support that is hard to beat.
Simply Shutters - a name you can rely on.
*Conditions apply. For more information on nationwide delivery areas and costs visit the 'delivery schedules' and 'delivery costs' tabs on our louvre door pages. To see our returns policy https://www.simplyshutters.co.uk/terms.php