Following the launch of three brand new styles to the existing synthetic range we are beyond excited to announce we can now build our Town & Country shutters in a Scandinavian Redwood.
Scandinavian Redwood is a slow grown joinery grade timber. Being slow grown, the wood is much denser than white pine variations available on the high street and therefore better able to resist weathering as it absorbs less moisture which can cause rot. Town & Country Redwood shutters can be kept in good condition for many years with periodic maintenance.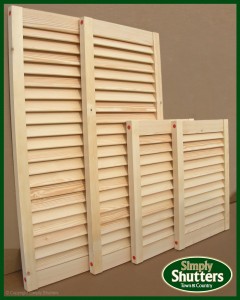 Town & Country Scandinavian Redwood shutters are supplied in a natural/ unpainted finish and come with a one year guarantee on the body. The wood is sourced from managed forests and has full FSC accreditation. The existing styles as well as the brand new Croxton, Chevington and Kilverstone styles are all available in Redwood.
We decided to launch a timber product because whilst the maintenance free, synthetic, decorative options remain extremely popular there was still an apparent demand for a product made from wood. By building the Town & Country range in both synthetic and natural wood options we feel we can better fulfil the demands of most customers. Town & Country Redwood shutters can also be used for other applications such as custom sized interior louvre doors.
Managing Co-Director Paul Millar says "Town & Country Redwood is the missing piece to the Town & Country range as it offers greater flexibility in use as well as keeping initial purchase costs down. We previously did not have a product that could be stained or used in both interior and exterior applications".
Town & Country Redwood shutters are available for purchase now via our website. Click here for more information.