About Ramin Hardwood Shutters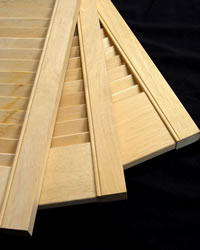 Simply Shutters Ramin hardwood shutter panels can be used as traditional shutters for windows or, alternatively are ideal for use as doors in exterior or interior applications.
Hardwoods are becoming a scarce commodity these days, primarily because the trees that produce the timber take so long to grow. It is this slow growth that provides us with a timber that is denser than faster growing softwoods and as a consequence is less able to absorb moisture in the same way as a softwood; a really good feature if you want the wood to last!
Because it can be ecologically unsound to use hardwoods that in turn can promote illegal logging of the rain forests, certain measures have been introduced to ensure that the wood comes from sustainable sources. The Forest Steward Council (FSC) awards certificates to timber that comes from managed sources. Quite often these managed forests have a policy where a tree (or more) is planted for every tree that is felled. As they grow, young trees consume more carbon di-oxide than mature trees and this has a beneficial impact on climate change helping to reduce the build up of greenhouse gases such as carbon di-oxide.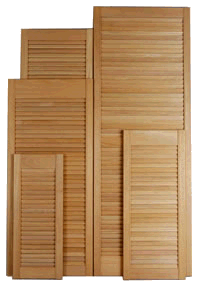 All Simply Shutters hardwood panels come from accredited FSC sources so you can be sure that you are not damaging the planet. Look for these signs to be sure that the product comes from genuine managed sources.
Ramin hardwood shutters can be purchased singularly or in pairs and you can order online via our online shop.
Ramin Louvre panels or doors can be trimmed for correct height and width.


Ramin Hardwood Durability
Although Ramin is a hardwood, it is not as durable as some other hardwoods and it will require the application of suitable weatherproofing treatments in order for it to better resist the weather.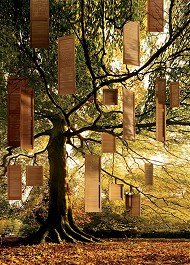 A suitable exterior paint / stain/ varnish /polyurethane treatment is recommended prior to installation, paying particular attention to the joints and where the louvres are located.

We recommend the use of Dulux Weathershield Wood Preservative Primer followed by Weathershield undercoat and Weathershield top coats to provide good levels of protection. Regular maintenance is essential to ensure that the shutters remain in good condition.

Check out these links for further information on the Dulux Weathershield system:

Dulux Weathershield Review
Weathershield Exterior Preservative Primer Plus
Weathershield Exterior Undercoat
Weathershield Exterior Gloss
Weathershield Ultimate Woodstain


Protecting Ramin Hardwood Shutters with the Dulux Weathershield System - Instructions
Weathershield Exterior Preservative Primer Plus
Weathershield Exterior Undercoat
Weathershield Exterior Gloss
Weathershield Ultimate Woodstain
Dulux Professional Guide to Protecting Wood


Handy Tip:
Screw a piece of clear Perspex angle bracket (or similar) to the wall immediately above the shutter (do not screw into the shutter itself). This will act as a roof to keep the water off the cut end grain and jointing; enhancing the life of the product.

Because Perspex (or similar) is clear you will not see it when viewed from the front. Speak to us about supplying these to you should you require them?