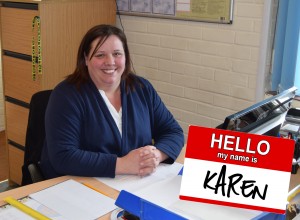 Name: Karen
Job Title: Sales Admin
Joined: February 2017
1) What are your responsibilities at Simply Shutters?
I am the first point of contact for our customers, advising on products, taking orders and sorting any problems that may arise. I also follow up on sales calls and I am in charge of managing any carrier related issues. I am also currently the reigning 'shredding monitor' a much coveted position at Simply Shutters.
2) What is your favourite part of your job?
I get to speak to many different customers and also the various departments at Simply Shutters including the warehouse, accounts team and our carpenters.
3) What is a typical day at Simply Shutters for you?
Much of my role is dealing with customers throughout the day by phone and email responding to queries and taking orders. I also keep track of parcels which have been dispatched, maintain our claims database which I manage, keep our workshop loading diary up to date, and various other tasks as and when required.
4) What do you find most challenging at Simply Shutters?
We have different shades of white colours for our dentil trim and door surround products which can sometimes be tricky to remember. Also we have our own version of a pop quiz in the office and I always seem to guess the wrong year when a song was released.
5) What have you gained from working at Simply Shutters?
I have gained extensive knowledge of the products during my time at Simply Shutters which has been both a great achievement professionally but have also found some of the knowledge to be useful outside of work. You learn something new every day.
6) What is your proudest moment at Simply Shutters?
Selling my first security grille by myself. Security grilles are a detailed and specialist product so to be able to sell my first grille to a customer without assistance was a great achievement for me.
7) Before working at Simply Shutters what was the most unusual or interesting job you've ever had?
I have had a variety of roles which include making lamp shades, flipping burgers and telesales.
8) Describe yourself in 3 words.
ME!! Normal!! Never!!
9) Dream Holiday destination?
Alaskan cruise
10) Favourite Drink?
Coffee
10) Favourite meal?
My mums stew and dumplings
11) Favourite Movie?
Mary Poppins
12) Favourite Song?
Depends on my mood, normally anything by Queen
13) Do you have a hidden talent?
No
14) What would be the title of your autobiography?
I can do it, watch me! I grew up with 5 brothers and was always told 'you can't do that you're a girl!' and I would, and still do, go out of my way to prove them wrong.