We recently made our annual donation to the Sky Rainforest Campaign.
They sent us back a very nice email with some information about the way the campaign is going …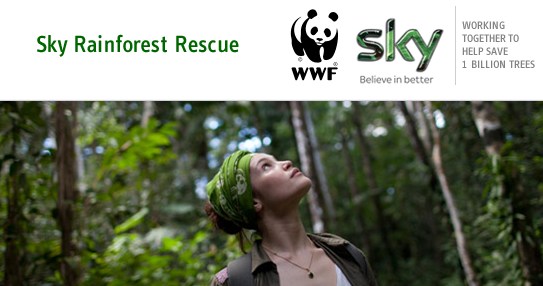 (Photo credit: © Per-Anderson Pettersson)
Thank you for supporting Sky Rainforest Rescue by sponsoring an acre of rainforest. As donations reach £1million, half way towards our campaign target of £2million, we are delighted to report that your support is already having an impact.
We have been tackling deforestation in the Amazon by working with local people in Acre state, Brazil, to make the forest worth more alive than dead. So far 150 families are now being helped to farm their land without resorting to fresh deforestation, and nearly 40 new rubber processing units have been built. All of this means that these people now have more viable ways of making a living without damaging the rainforest, helping to protect the incredible species that live there.
On a recent trip to Acre with Bond girl Gemma Arterton, we met some of the people who are benefitting from our work. She witnessed first hand the devastating effects of deforestation in this fragile ecosystem. She also had the chance to meet the people whose actions are helping to protect the rainforest, with support from WWF and Sky.
According to Gemma, "Meeting the families was the best part of the trip." She added: "It's such a complex task that WWF and Sky are tackling. It's gradually improving people's lives by helping them in quite simple ways."
Robin Clegg, WWF's Senior Press Officer who went on the trip with Gemma, said: "Families who joined the voluntary land certification scheme are now starting to receive their bonus payments. Ivair da Silva, who we met on a previous trip, has bought a mower and other farm tools and now manages the land he has allocated for agriculture more efficiently."
We have also helped complete nearly 40 rubber tapping units that are now producing semi-processed rubber, which the tappers will be able to sell at a higher price than unprocessed latex. We're also working to secure long-term contracts for the rubber communities, which will help ensure a steady source of income for its tappers.
There's much more to do, however thanks to your support we're already making it possible for people in Acre to make a living in the forest, without cutting down trees.
That's good news for the local people of Acre… and for the Amazon rainforest!
If you want to receive further updates about the campaign, including about our Autumn photo exhibition of Gemma in the Amazon, why not follow us on Twitter or find us on Facebook.
The Sky Rainforest Rescue team