"Employees are your most valuable assets. They are the heart and guts of a company…." Carlos Ghosn
Simply Shutters staff are simply the best!
As a family run business Simply Shutters prides itself on its good values and old fashioned levels of service. For us to be at our very best we rely on our dedicated and valuable members of staff.
One of our great, hard-working employees is Alan Ryan. Alan is our Customer Service Assistant and an integral part of the team. His job role includes answering calls, processing orders, stock control, general administration duties, Shutter Dog sitting and other general office and warehouse duties as and when required.
As this month's Staff Spotlight we asked Alan to answer some random questions about himself. Here's what he had to say: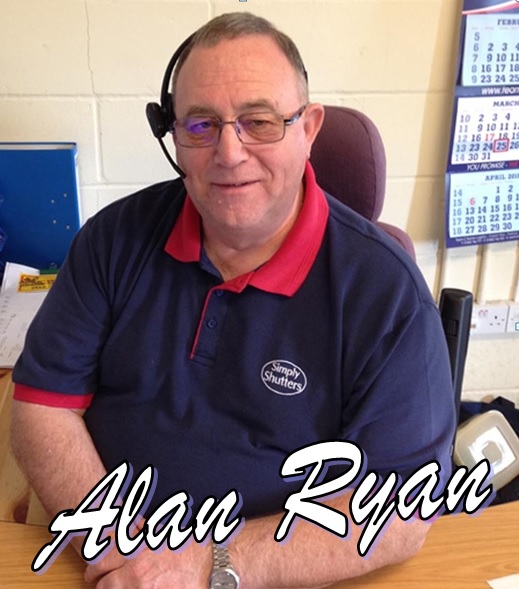 1. What is your job role at Simply Shutters?
Customer Services Assistant.
 2. What's your average working day like?
It's a busy and challenging role but enjoyable and rewarding and also quite humorous at times.
3. If you could describe working at Simply Shutters in 3 words what would they be?
Interactive, Challenging, Rewarding.
4. What's your favourite part of your job?
Satisfying customer's needs.
5. What are your 3 desert island essentials?
My wife, water and a solar powered radio.
6.Before working at Simply Shutters what was the most unusual or interesting job you've ever had?
Operations Manager in the wholesale news trade.
7. If you were an animal what would you be and why?
A Dog. I would be trained as a guide dog to help those that cannot see.
8. If you were a super hero for a day what would your super power by and why?
The power of healing so I could take away pain and suffering.
9. Where would you go on your dream holiday?
On safari in South Africa.
10. Tell us something that might surprise us about you.
I did two parachute jumps for Charity in the mid-80s and raised over £3000 for the Poppy Appeal and for a cat scanner at the QE2 Hospital Kings Lynn.