Security grille bottom fitting options
Reveal: Collapsible grille fitted between walls, recess or aperture.
Face: Surface mounted or 'plant on' retractable security grille
All Simply Shutters security grilles can be reveal fixed (fitted inside an opening) or they can be face fixed. The difference between the two methods is shown below. It is possible to mix these options as shown in the first diagram.
For reveal fixing, order the grille 5mm less than the width and height of the opening.
For face fixing, the drawings below show the optimum position. However it is best to position grilles so that the fixings go into solid material or that the stack is concealed behind a wall, and this will affect grille sizes. Please ask for advice if in doubt.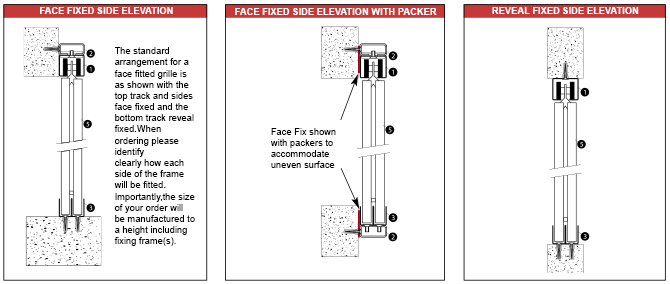 Click to enlarge
For single sash security grilles you should include the slam post width in your measurement. You simply need to measure the overall width and height of the grille before ordering. All other options added will fit inside these dimensions.
Note that if you need to determine your own fixing points on site we can drill grilles for face and reveal fixing and we can also leave them undrilled by special request. Contact us to order if you need either of these options.