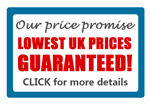 What is covered:
All exterior UPVC polypropylene products
What is not covered:
Wooden louvre doors
Town & Country shutters
Security Products
Trade Sales

So that you can order from us with confidence we check our competitor's prices to make sure that you always get the lowest price. Should you happen to find a similar quality product online at a lower price anywhere in the UK (inclusive of carriage costs) we won't just match the lower price we'll beat it by a further 10%. That's a promise!
A refund for the difference will be paid into the card account used when placing the order. If the order was placed over the telephone or sent in to us through the post and payment was made by cheque, a cheque for the difference will be raised. Due to the widely varying quality of doors available on the internet, our Price Promise specifically excludes wooden louvre doors together with Trade Sales who enjoy their own special terms.
Should you want to make a claim before you've bought the goods from Simply Shutters, we'll ask you for the details of the other product and price that you've found. If you've already bought eligible products from us and then found them cheaper somewhere else within 7 days of making the purchase, we can action Our Price Promise subject to the details below.
In either situation, we'll ask to see proof of the other price you've found. The decision to action Our Price Promise is entirely at the discretion of Simply Shutters Ltd and their decision is final (whether you have proof or not).
Price comparisons will only be made on the selling price of the goods plus carriage costs combined. 'Free gifts' or 'Give aways' are not included. The equivalent product must, in Simply Shutters reasonable opinion, be of the same or very similar specification. The decision of Simply Shutters Limited on what is an equivalent product is final and not negotiable.
You can claim under Our Price Promise up to 7 days after you have made a purchase from us. Claims should be supported with evidence of the other relative product, price and where seen.
Only one refund per customer per purchase will be given. These terms & conditions do not affect your statutory rights.